[ad_1]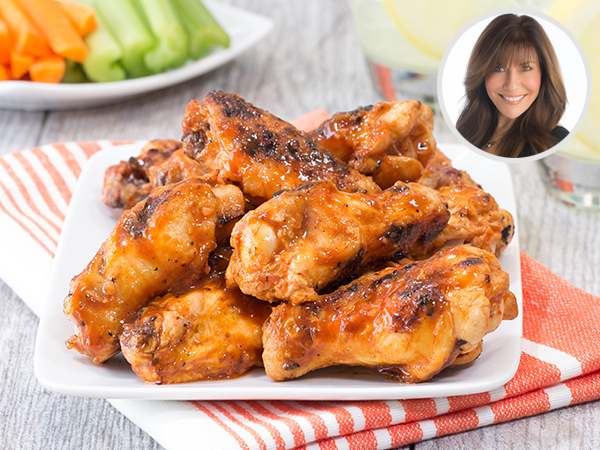 Courtesy Lisa Lillien
Lisa Lillien is the author of the popular Hungry Girl website and email newsletter, featuring smart, funny advice on guilt-free eating. She is also the author of eleven books, six of which debuted at number one on the New York Times Best Sellers list. Read her PEOPLE.com blog every Monday for slimmed-down celebrity recipes and more.
Thinking of ordering hot wings for your Memorial Day party? You can do so much better. I'm talking insanely delicious restaurant-style wings that require no deep-frying (or high calorie and fat counts). Fire up the grill, because that's all you'll need to cook these – and everything tastes better grilled!
RELATED: Hungry Girl: 4 Easy Food Hacks to Save Your Summer BBQ
Marinating the wings in yogurt makes the meat tender and flavorful, and the combination of BBQ sauce and Frank's RedHot creates the perfect finger-licking sauce. The only downside? Your pals are gonna gobble these up fast. Better set some aside for yourself before you serve 'em up!
'Til next time… Chew the right thing!
RELATED: Hungry Girl: The New, Diet-Friendly Fast Food Items You Need To Know About
Hungry Girl's BBQ Buffalo Wings
Serves: 6
¼ cup fat-free plain yogurt
3 tbsp. Frank's RedHot Original Cayenne Pepper Sauce
9 chicken wings, tips removed, drumettes and flats separated (see HG tips below)
¼ cup BBQ sauce (with 45 calories or less per 2-tbsp. serving)
1 tsp. crushed garlic
1. In a large sealable container or bag, thoroughly mix yogurt with 1 tbsp. Frank's RedHot. Add chicken wings, and stir to coat. Cover and refrigerate for 1 hour.
2. Meanwhile, in a small bowl, combine BBQ sauce with remaining 2 tbsp. Frank's RedHot. Add garlic, and mix well. Transfer half of the sauce to a large bowl, and reserve for tossing the cooked wings.
3. Bring a grill sprayed with nonstick spray to medium heat. Grill wings for 5 minutes with the grill cover down.
4. Brush the tops of the wings with half of the sauce in the small bowl. Flip wings, and brush the other sides with remaining sauce from that bowl. With the grill cover down, cook 5 – 7 minutes, or until chicken is cooked through and slightly blackened.
5. Place wings in the large bowl with the remaining sauce, and toss to coat.
HG Tips: To remove the tips, pull them apart from the flats, making a "V" shape; then cut directly into the center of the "V." To separate the wings, pull them apart so the tendon separates, and cut parallel to the drumette right at the tendon. When in doubt, ask the butcher to separate them for you!
Active time: 10 minutes
Cook time: 15 minutes
Nutritional Information: ⅙ th of recipe (3 pieces): 214 calories, 13g total fat (3.5g sat fat), 493mg sodium, 4g carbs, 0g fiber, 3g sugars, 18.5g protein
[ad_2]

Source link