[ad_1]

Firefighter Embraces 3-Year-Old With Cancer, Makes His Dream Come True
May 19, 2016

Three-year-old Trucker Dukes, from Maui, Hawaii, is a patient at Memorial Sloan Kettering Cancer Center (MSK) in New York. At 19-months-old he was diagnosed with Stage IV Neuroblastoma and transferred treatment to MSK where they specialize in Neuroblastoma.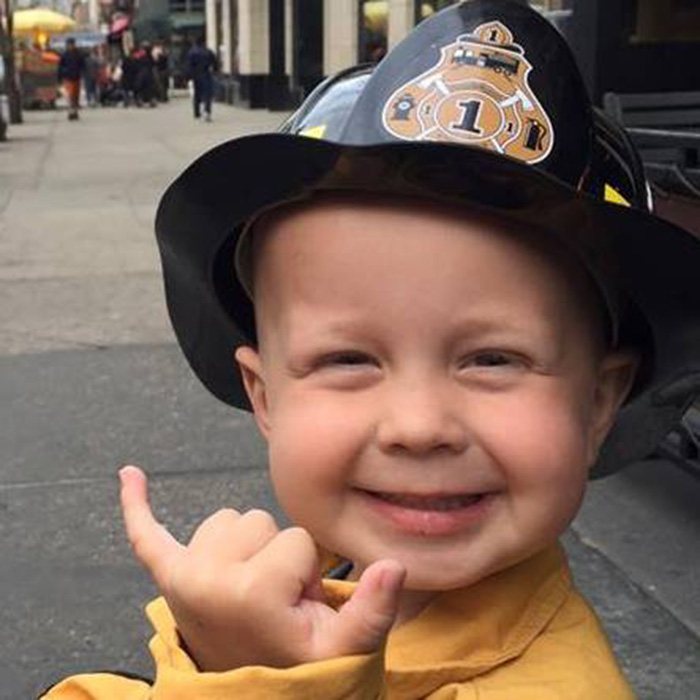 Facebook

Joshua Dukes, Trucker's dad, is a Maui firefighter and continues to work in Hawaii while their three older children attend school on Maui. Trucker and his mom travel between New York and Maui for treatments.

They met FDNY Captain Jim Grismer (pictured below hugging Trucker) after he exited Engine 22 on a call to the Ronald McDonald House where the Dukes stay while in NY.

Facebook

"I see this little boy excitedly walking towards me with his eyes aglow. I opened my arms and he basically climbed up and hugged me around the neck," said Grismer. "It was as if we've been friends/brothers for years."

Grismer invited Trucker and his mom on firehouse visits throughout the city, and firefighters from FDNY Engine 22, Ladder 13, Battalion 10 hosted Trucker's birthday party at their firehouse this year.

On May 31, he'll be made an honorary firefighter by Daniel A. Nigro, the city's Fire Commissioner, at a ceremony at the FDNY Headquarters in Brooklyn.

"This honor is so special to us because Trucker really thinks he's a fireman," Trucker's mother wrote on Facebook. "We are so blessed to have been adopted by the FDNY. Time and time again, I have watched big tough men fall in love with Trucker. It's really something special."
[ad_2]

Source link