[ad_1]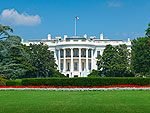 05/20/2016 AT 04:25 PM EDT
The White House was locked down on Friday afternoon after a gunman opened fire on the president's home from the street outside, a Secret Service source confirms to PEOPLE.
Officials say President Barack Obama was not in the White House at the time of the shooting, though a source says Vice President Joe Biden was inside.
Biden is said to be secure and safe.
A man was shot outside the White House and was taken to an area hospital and is listed in critical condition, a law enforcement source explains.
NBC News and the The New York Times and CBS News report that authorities shot and wounded an armed man. Officials were unable to confirm those details to PEOPLE.
• Want to keep up with the latest crime coverage? Click here to get breaking crime news, ongoing trial coverage and details of intriguing unsolved cases in the True Crime Newsletter.
The White House and the offices of the Department of Treasury were both on lockdown following the shooting about 3pm on Friday.

Check back later for more on this developing story.
[ad_2]

Source link