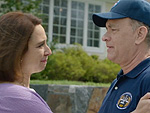 07/11/2016 AT 09:00 AM EDT
Tom Hanks
is headed off to space – well, after he catches up on
Chicago Fire
and grabs Burger King, that is.
In a hilarious sketch from the May premiere of Maya & Marty – NBC's new sketch show starring Maya Rudolph and Martin Short – Hanks played a less-than-honest astronaut. Even funnier, though? The skit's outtakes.
From breaking props to unexpected background noise and flubbed lines, Hanks, Rudolph and Short can't keep it together.
RELATED VIDEO: What Do James Brolin and Tom Hanks Have in Common? A Son…Well, Sort Of


The Maya & Marty season finale airs Tuesday, July 12 at 10 p.m. EST on NBC.
The episode will feature Sean Hayes, Steve Martin, Kelly Ripa and Emma Stone.