[ad_1]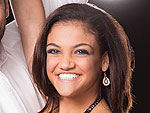 Monday night was "perfect" for Laurie Hernandez!
The Olympic gymnast, who is competing on season 23 of Dancing with the Stars, might want to consider a career in dance following her time on the reality dancing competition series.
Just four weeks into her run on DWTS, the 16-year-old Final Five member was awarded the first perfect score of the season.
For week four's Cirque du Soleil theme, 16-year-old Hernandez and her pro partner Val Chmerkovskiy performed a jazz to Michael Jackson's "The Way You Make Me Feel" – and the duo clearly impressed the judges!
After receiving three 10s from Carrie Ann Inaba, Bruno Tonioli and Julianne Hough – Hough declared her the "queen of the ballroom" – the teenager was at a loss for words.
"Can we get a reaction from you?" host Erin Andrews asked the shocked Olympian-turned-dancer. Hernandez covered her mouth in surprise and responded with a giggle and laugh: "What?!"
While Hernandez stood in amazement, 30-year-old Chmerkovskiy took the time to give thanks to "the original choreographers of this piece, of this video: Michael Jackson, the Jackson family" and added, "these 10s would not be possible without their influence and without their help."
Backstage after the show, Hernandez still struggled to wrap her head around the reception to her dance.
"That was insane. We hadn't even gotten nine yet, had we? We skipped over the 9s," she told PEOPLE. "I felt like a very sassy lady tonight. I channeled my inner Michael."
"After a night like tonight, our confidence is sky high," Chmerkovskiy added to reporters. "And this was the least time we've had to put a dance together. I wasn't expecting a perfect score, to be honest with you."
Dancing with the Stars airs Mondays and Tuesdays at 8 p.m. ET on ABC.
[ad_2]

Source link