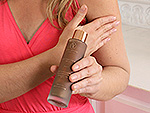 05/16/2016 at 06:00 AM ET
If you've tried and failed to find a self tanner that hits all of your requirements (long-lasting, easy to apply, natural-looking), we feel your pain. There hasn't been one tanner out there that checks every box  — until now. Vita Liberata's Self Tan Dry Oil is everything you'd ever want in a faux glow, plus more!
This dry oil has all the basics of a stand-out self tanner, it works right away and doesn't leave any orange streaks (there's no messing this up!) and it actually enhances the tan over time to make it last four times longer.
But the really special aspect is the fact that it's packed with fun extras. It multitasks as an anti-aging product, hydrates like a lotion and comes loaded with SPF 50.
If you're a first-time Joyus shopper, sign up today and receive 10 percent off your first order + free shipping on all orders $50. And for more great products (also eligible for that 10 percent discount), go here.
— Colleen Kratofil