[ad_1]

This Cop Was Shot 8 Times In The Line Of Duty. This Is Her Amazing Story
November 22, 2016

This is Kimber Gist, a South Carolina police officer who was shot eight times in the line of duty and very nearly died.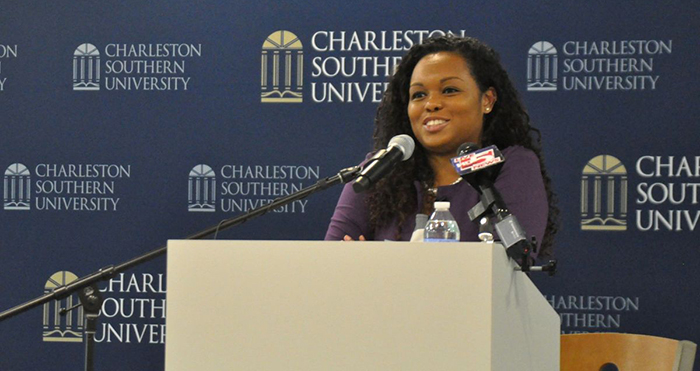 Photo credit: JournalScene.com

For the first time since surviving the shootout, Gist spoke publicly Thursday at Charleston Southern University about her near-death experience.

Gist said she finds it's uncanny how the details of that day remain lucid in her mind.

"I can tell you exactly where I was standing in my apartment when I got dressed that day," she said. "Some days I can still hear Velcro fasten putting on my vest. Some days I can still smell gunpowder."

The only female on her shift, Gist has worked hard to prove herself as both a woman and African-American. She said both characteristics are rare in law enforcement but have never stopped her from staying tough and focused.

"I never saw a black female officer growing up," Gist said. "I didn't think they existed."

On Feb. 26, Gist spotted a suspicious-looking vehicle parked in an empty Food Lion parking lot. Gist then approached the vehicle, finding a man and woman inside. When their stories about why they were there so late didn't add up, she knew something was off.

Gist had the woman step out of the vehicle and put her hands on the hood so she could pat her down. But the woman appeared to be hiding something and dropped her arms at one point.

A struggle soon ensued, and luckily Gist still had her hand on her mic, alerting her team to the situation.

A "tenth of a second later," Gist said she heard a loud noise, and a bright flash blinded her. That was the first gunshot. It whizzed by her ear but took her a moment to realize what happened.

Soon after she smelled gunpowder and realized she'd been shot, yet her immediate fears were not about her safety; they were about media scrutiny and her career.

"In today's world, law enforcement can barely make an inch move without being on the news," Gist said. "Most people don't agree with how we handle situations. My first…thought was, 'I'm going to be crucified (because) somebody black was shot by the police.'"

The second bullet struck her lip—the only taste in her mouth, blood.

"It literally felt like half my face was gone," Gist said. "I thought I didn't have a jaw."

As she fell toward the ground, her hip took the next bullet. Her attacker continued to shoot at her like a paper target at a gun range. In disbelief she said she watched "the bones fly out of my foot."

"That shot was like, 'Alright, now I'm ticked off. Now you're not shooting me to get away; you're shooting to kill me,'" Gist said.

She fired her weapon. And kept firing it to try to stop the threat.

"I actually wanted to murder him at that point," Gist said. "I was in the homicide mode. Somebody tries to blow your face off, you have the same thought process, too."

Though she had already "made peace" that she might not survive the night, Gist continued to push through the electrifying pain in her stomach, and entire body.

"I'm a fighter. I grew up fighting."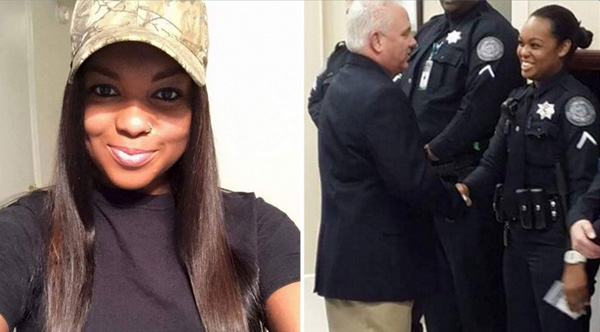 Kimber Gist

Luckily, her team had heard an urgency in her voice during her earlier radio call and were already on their way to provide backup.

"They were coming from all over the place," Gist said, naming the different departments for the crowd. "I knew they were coming…they're always there for you."

When help finally arrived, it seemed like an hour had transpired since the start of the shootout. But Gist later learned the whole event had taken place in less than two minutes.

"I could actually see the bullets come out of my gun. Everything was in slow motion."

Gist hasn't shot a gun since the incident and said she doesn't doubt it'll be an emotional moment when she finally does. She's been on light duty the last nine months but anticipates rejoining road patrol in the spring.

Gist said the shooting changed her whole outlook on life. And not for a moment does she regret using her gun to defend her life.

Source: Journal Scene
[ad_2]

Source link