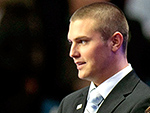 07/17/2016 AT 12:25 PM EDT
Sarah Palin
's son Track Palin has accepted a plea deal in his domestic violence case, according to
court documents
.
Earlier this year, Palin was arrested and charged after allegedly punching a woman in the face at his family's home in Wasilla, Alaska.
The 27-year-old son of the former Alaska governor was initially charged with three misdemeanors: domestic-violence assault, interfering with the report of a domestic-violence crime and misconduct involving weapons in the fourth degree, the court documents say.
However, per Monday's plea agreement, which has not been finalized, the first two misdemeanor charges have been dismissed by the prosecution. According to court documents, Palin is now left with the misconduct involving weapons in the fourth degree, which is a class A misdemeanor and is punishable by up to one year in jail and a fine of up to $10,000. Track's attorney, Kevin Fitzgerald also told the Alaska Dispatch News that the plea deal requires that Palin complete an "alcohol-related" treatment program to expunge the weapon charge.
Police said Palin's BAC was 0.189 at the time of arrest, according to the Associated Press.
VIDEO: Bristol Palin Shares Adorable Family Photo
The affidavit in the case said officers found the woman involved "curled up in the fetal position" when police arrived, according to the AP. The AP report also says the affidavit states that Palin put a gun to his head and said, "Do you think I won't do it?" before police arrived.
Palin's case was dealt with by a special court for veterans at his request, according to Fitzgerald. The oldest child of the Palins enlisted in the U.S. Army in 2007 and served in Iraq for one year starting in 2008.
While campaigning for presidential candidate Donald Trump's campaign in January, Sarah Palin took the time to comment on her son's arrest:
"I can talk personally about this, I guess it's kind of the elephant in the room," Palin said. "My son like so many others, they come back a bit different, they come back hardened, they come back wondering if there is that respect for what it is that their fellow soldiers and airmen and every other member of the military so sacrificially have given to this country. And that starts from the top."