05/22/2016 at 08:30 PM ET
Here are some things we associate with Rihanna's red carpet appearances: Pasty dresses. Massive capes. Nothing but a thong and some sparkles. But because Rihanna is nothing if not devoted to keeping us guessing, she showed up at the Billboard Music Awards in … a demure brown dress.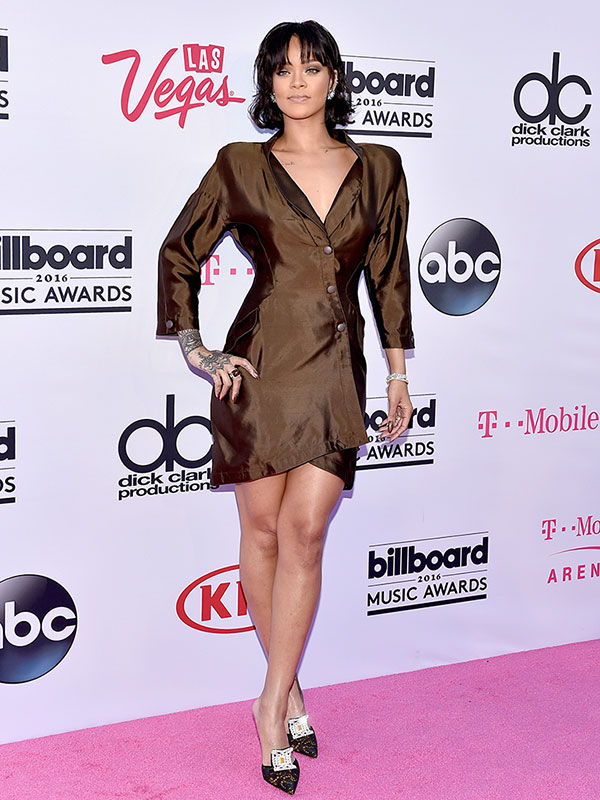 David Becker/Getty
The pop diva superstar left her microminis, backless gowns and crop tops behind for a sedate burnt sienna shirtdress featuring slightly puffed 3/4-sleeves, suiting-like lapels and button closures. The finishing touches? Leopard mules with glittery buckles, Neil Lane earrings and a simple banged bob.
RELATED PHOTOS: All the Best and Boldest Looks from the Billboard Music Awards!
The whole effect was surprisingly low-key for the typically whiplash-inducing singer — it's not backless, plunging or ultra-short, doesn't show off her torso tattoos and isn't even accented with oodles of bling. She even kept her makeup and hair look fairly natural, opting for a simple nude lip and fairly natural eye to go with her undone bob.
RELATED VIDEO: Fifth Harmony Opens Up About Performing At the 2016 Billboard Music Awards
While we will admit to loving pretty much anything Rihanna wears (she's freaking Rihanna), we are having a hard time putting our finger on what this look reminds us of. Is it a haircutting smock from a very stylish salon? A leftover look from Working Girl (which makes us want to nominate her to be cast in the remake — she does have a head for business and a bod for sin, after all)? The look your cool aunt wore to your Bat Mitzvah in 1998? When you figure it out, let us know.
How are we feeling about this outfit?
–Alex Apatoff