[ad_1]

'ICU Grandpa' Cuddles Babies Whose Parents Can't Be Present
September 29, 2017

David, also known as "ICU Grandpa", visits the Children's Healthcare of Atlanta every Tuesday and Thursday to hold babies whose parents can't be with them that day.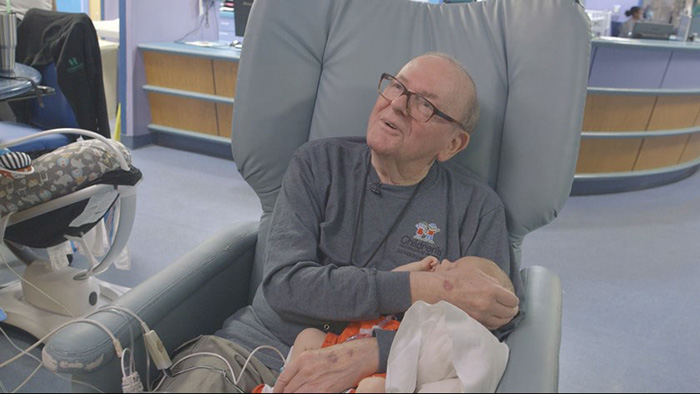 Credit: Kenny Hamilton – CHOA

A photo taken by baby Logan's mom "as she fought back happy tears" is touching the hearts of thousands online after it was posted on the CHOA's Facebook page.

The photo captures just one precious moment with David who's been holding patients, and their parents' hands, for 12 years.

Many of the parents who met David in the hospital are commenting on the Facebook post to thank him for his love and kindness.

"He rocked our baby for countless hours," Kristin Cook Walker says. "What a wonderful gift he has, and what a blessing it is that he shares that love with others."

"David took care of our Miss Madilyn when she was in the NICU," writes Sandra Ricker. "He is the greatest and we are very thankful for his kindness."

"David rocked my son every Wednesday morning during our 4 month stay," Elizabeth Bradbury Dodson writes. "He will always hold a special place in our heart. We love him."

"David is the best!" writes Julie Lybrook Brady. "He always has a smile and a kind word to offer. A gentle soul who we're lucky to have at choa. Love you, David."
[ad_2]

Source link