07/17/2016 AT 05:40 PM EDT
Clarise Baker and her friend Naomi Chi were taking a break from shopping, relaxing in cozy chairs at Charlotte, North Carolina's Southpark Mall, when a group of men in matching black polos approached them.
After a quick introduction, the men burst into song, harmonizing to the Bruno Mars song, "Just the Way You Are."
A crowd quickly formed.
"It was so nice, I almost cried," Baker tells PEOPLE. "It was just beautiful."
Her friend Chi was also moved, saying, "It made me feel warm. I kept on smiling. It just made me smile and one smile makes everyone's day better."
"That's exactly what it's all about," said John Quillin, the director of the chorus.
Quillin and the rest of the group are part of the Gay Men's Chorus of Charlotte and they spent Saturday afternoon serenading random shoppers, moving through the mall, stopping when they spotted someone they felt looked in need of a song.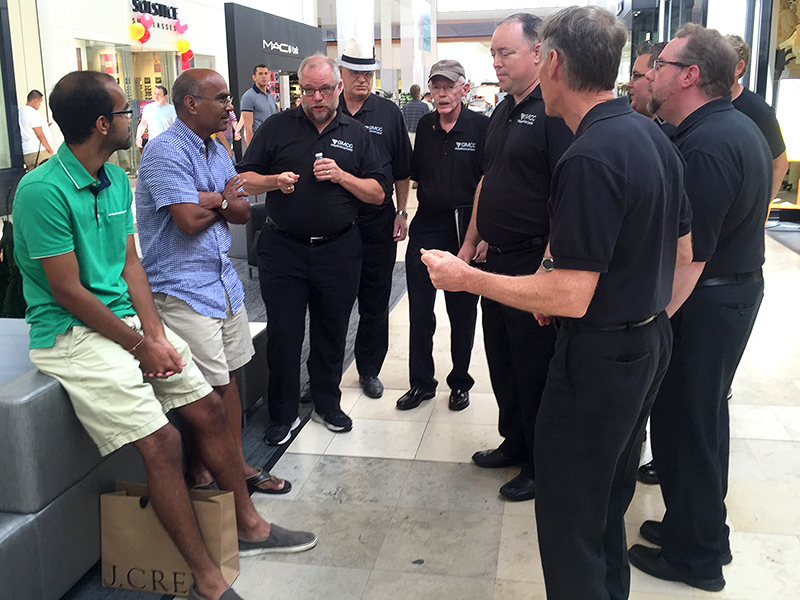 "It's been a bad couple of weeks," Quillin said. "We're just out spreading a little bit of happiness and joy."
Each time they did, shoppers would stop, gather in a circle and grab their cell phones to document the impromptu concerts.
The men were taking part in #KINDNESSMatters, a grassroots social media movement born in Charlotte that asks people to perform acts of kindness, document them and challenge others to do the same.
Related Video: The Out Field: Gay Athletes Talk About Pro Sports
The group's repertoire was carefully chosen for the cause and included Michael Jackson's "Man in the Mirror" and Eric Clapton's "Change the World."

They even surprised a young girl who was FaceTiming with her mom, singing to both of them.
"We've never done a remote," he joked. "But it was fun!"
Quillinn added, "The whole day was just a blast. Song pulls people in, which is why we sing. Can music stop a bullet? I don't know, but it can bring us all together."