[ad_1]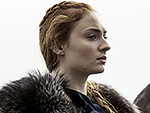 06/19/2016 AT 11:30 PM EDT
Warning: Spoilers ahead for Sunday's episode of Game of Thrones
.
Game of Thrones delivered its most ambitious battle scene yet – and gave one character the fate fans have been begging for in Sunday's supersized episode.

Jon Snow (Kit Harington) took back Winterfell with a big assist from his sister Sansa (Sophie Turner) and her ally Littlefinger (Aidan Gillen).
The brutal battle culminated with Jon beating the villainous Ramsay Bolton (Iwan Rheon) nearly to death. But the final blow was saved for Sansa, who arranged for Ramsay's prized hounds to eat him.

In an interview with Entertainment Weekly's James Hibberd, Rheon opened up about exiting the show after four seasons and what he thought of Ramsay's fate.
He said that he learned of his demise when the producers called him, joking, "Isn't it great Ramsay ends up on the Iron Throne?"

"As soon as they said that I said, 'He's dead isn't he?' It's cool. I've had four lovely seasons here," Rheon told EW. "It's been great to be involved with such an amazing show. I think it's kind of right he goes down. Because what else is he going to do after this? He's done so many things. It's justified and it's the right thing to do. It's the right path. He's reached his peak. It's nice for the audience that he goes out on this high, if you will."
Ramsay lost the battle even though he technically had the better strategy. He was only defeated thanks to the surprise addition of the men provided by Littlefinger and Sansa. But Rheon said that didn't bother him one bit as a fan of the show.

"Jon Snow needs to win because otherwise there's no hope left in the world. But it is interesting that it isn't fair," said Rheon. "And afterward, Ramsay still thinks he's won. He's so arrogant and self assured he thinks he'll still be fine – until the last minute."
As for his ultimate end at the jaws of his own hounds, Rheon finds poetic justice in it.

"And it's a gruesome death. It's so ironic. He's been banging on about those hounds all this time," he said.
Game of Thrones airs Sundays at 9 p.m. ET on HBO.
[ad_2]

Source link