[ad_1]

Foster Parents Adopt 4 Siblings Who Wanted To Stay Together, Brings Judge To Tears
March 15, 2018

A judge was brought to tears as a new family filled six chairs in her Kansas City courtroom.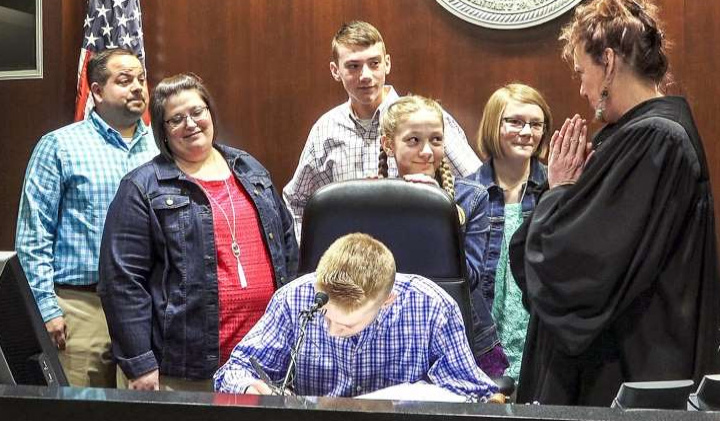 Photo Credit: Allison Long / Kansas City Star

In 2015, Phyllis and Eric Watson applied to be foster parents. The day after receiving their license to adopt, the Watsons got a phone call from a local adoption agency about four siblings seeking a home where they could stay together.

The children came from a home where the marriage failed early and substance abuse and neglect followed.

"We were thinking one foster child at a time. Maybe two? We weren't thinking four at once," Eric told the Kansas City Star.

Three days later, the Watsons accepted the challenge. Eric said he couldn't bear the thought of the kids being separated.

"The turning point for me was they were going to be split up and I didn't want to see that," Eric told KSHB 41 through tears.

"And we've never regretted it. Not one day," said Phyllis.

On Monday, two and a half years later, the Watsons officially adopted Alisia, 17; Bradley, 16; Cody, 15, and Emma, 11.

Judge Kathleen L. Sloan said it was "the best hearing that any judge gets to have in the United States."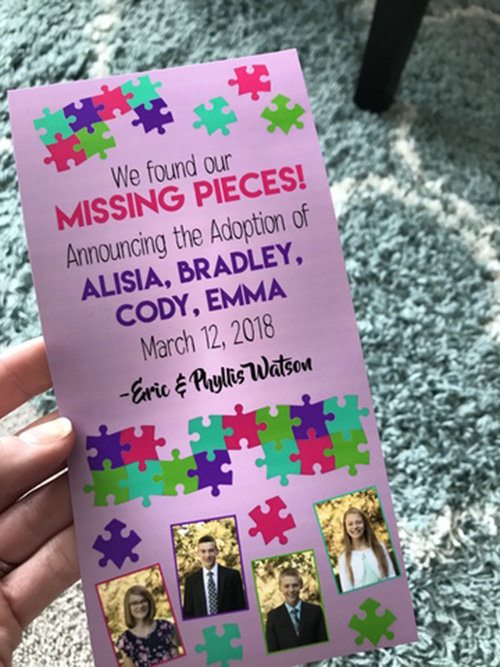 "It's not what I had planned, but it's so much better," said new mom, Phyllis. "I love them like they are my own."

New dad, Eric, said one word sums up his feelings about this adoption — "Complete."

Alisia would have aged out of the system and may have been left on her own as early as this summer, when she turns 18. Now she has different plans for her future, including college and someday marriage.

"Yeah," she said. "I can definitely imagine my dad walking with me down the aisle."
Please consider
making a donation
to
Sunny Skyz
and help our mission to make the world a better place.
[ad_2]

Source link