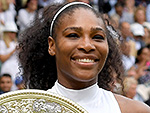 07/09/2016 AT 03:35 PM EDT
Serena Williams
just
won
her seventh Wimbledon single match – and 22nd Grand Slam championship – and celebrities are freaking out.
While her pal Beyoncé hasn't taken to Twitter to express her joy in Williams' 7-5, 6-3 win over Angelique Kerber on Saturday, Ellen DeGeneres was eager to congratulate the champion – just in case she couldn't hear her screams from Centre Court.
DeGeneres and her wife Portia de Rossi were sitting next to tennis legend and former Wimbledon champ Billie Jean King. The tennis legend and philanthropist also took to Twitter to support Williams.
Congratulations, @SerenaWilliams! This tweet is just in case you couldn't hear me scream it from the stands. #Wimbledon.

— Ellen DeGeneres (@TheEllenShow) July 9, 2016
Congrats, @serenawilliams. YOU did it! Enjoy this moment. Pressure is a privilege.
#22andcounting pic.twitter.com/qUcQUMV3zy

— Billie Jean King (@BillieJeanKing) July 9, 2016
Rashida Jones was also spotted in the crowd next to her friend Natalie Portman, and was eager to post her congratulatory tweet.
Serena!!! pic.twitter.com/W3bo5yUyhe

— Rashida Jones (@iamrashidajones) July 9, 2016
Some of Litchfield's finest – Orange is the New Black's Laverne Cox, Danielle Brooks and Uzo Aduba – were in awe of the athlete.
How beautiful it is to win. @serenawilliams your commitment to perfection inspires us all to win. #WimbledonFinals #Catch22 #Wimbledon2016

— Laverne Cox (@Lavernecox) July 9, 2016
Team Serena!!!

— Danielle Brooks (@thedanieb) July 9, 2016
Serena Williams. #22

— Uzo Aduba (@UzoAduba) July 9, 2016
And Kerry Washington continued with her praises.
#Serena I bow down. And am simultaneously uplifted.

— kerry washington (@kerrywashington) July 9, 2016
Actors like Hugh Jackman and Debra Messing, as well as pop star Hailee Steinfeld, were just a few of the many well wishes sent by members of the Hollywood elite.
@serenawilliams v @AngeliqueKerber @Wimbledon Serena = champion! Incredible effort. You're a class act. #22

— Hugh Jackman (@RealHughJackman) July 9, 2016
SERENA!!!!! YES!!!! a spectacular match! Congratulations @serenawilliams !

— Debra Messing (@DebraMessing) July 9, 2016
#Serena I bow down. And am simultaneously uplifted.

— kerry washington (@kerrywashington) July 9, 2016
And, of course, the champion herself some words to say about the day. Four, to be exact:
"22
Grand
Slam
Titles."