[ad_1]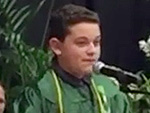 06/19/2016 AT 09:50 AM EDT
Watch out, Saturday Night Live.
An eighth grade student from a Chicago-area middle school used his graduation speech to roast the candidates of the 2016 Presidential race.
Jack Aiello had the audience at Thomas Middle School cracking up as he impersonated Donald Trump, Ted Cruz, President Barack Obama, Hillary Clinton and Bernie Sanders while speaking about trials and tribulations of middle school.
According to NBC Chicago, all 350 people in the graduating class were given the assignment of writing a speech, but Aiello's was clearly the winner.
"He was hands down number one because it was going to speak to the kids," principal Brian Kaye told NBC.
Aiello, speaking as Sanders, said his school had the best cinnamon rolls he'd ever tasted, but "I do have one improvement for them, though: We need to make them free."
"Why should students have to pay for their own cinnamon rolls? Doesn't make any sense. What we need is a cinnamon roll revolution."
As Cruz, Aiello said: "Thank you, Donald. Let me start by saying this: God bless the great school of Thomas!"
The video of his speech, uploaded by his dad, has now been viewed on YouTube over 1,900,000 times, and even caught the attention of Cruz.
Ok, this kid is funny! Nicely done, and congrats on graduating! https://t.co/Al8zWOZd2L

— Ted Cruz (@tedcruz) June 16, 2016
"Politics has been something he's been interested in for several years," Aiello's father, John, told ABC News. "He's always been good with impressions, so while watching along with his mom and I, he picked up phrases and mannerisms of the candidates."
"We brainstormed some quirky memories from school to work into the speech," said Jack's mom, Carla. "His classmates were encouraging of one another and when he delivered the speech, he got quite the reaction."
[ad_2]

Source link