[ad_1]

5th Grader Saves Choking Classmate, Says He Knew What To Do After Watching Documentary
February 22, 2018

A 5th grader has been credited with saving the life of a choking classmate and he says he knew what to do by remembering a documentary he watched years ago.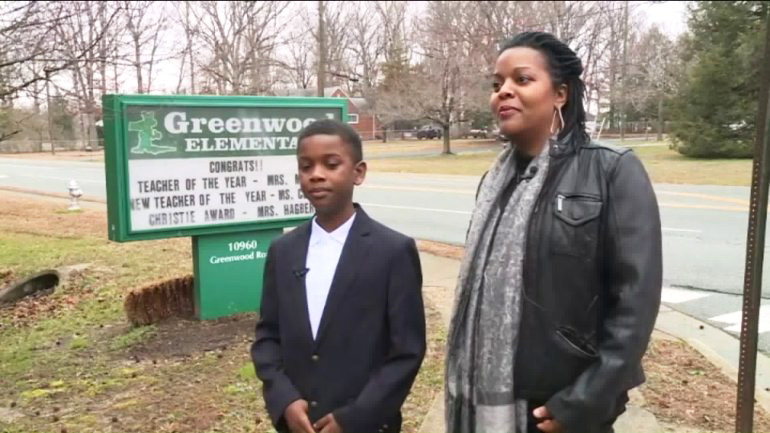 Benjamin Ford and his mother / Credit: WTVR.com CBS 6

Benjamin Ford jumped into action when he noticed a classmate starting to turn colors and gasping for breath.

"I wasn't really calm, my heart was racing I just knew I had to help her," he told CBS 6 News.

Though he was nervous, Greenwood Elementary school officials said the fifth grader had all the right moves.

"I felt like I had to hurry up and get to her," Benjamin said. "I thought in a couple more seconds she might not make it."

Ben has been recognized by Greenwood Elementary school administrators, who shared the story of his heroic intervention with the entire school.

A step-by-step guide explaining what to do in a choking emergency.

If the person is choking and can't talk, the American Red Cross recommends a "five-and-five" approach to delivering first aid:

1. Give 5 back blows.

2. Give 5 abdominal thrusts. To perform abdominal thrusts (Heimlich maneuver) on someone else:

Stand behind the person. Wrap your arms around the waist. Tip the person forward slightly. Make a fist with one hand. Position it slightly above the person's navel. Grasp the fist with the other hand. Press hard into the abdomen with a quick, upward thrust — as if trying to lift the person up.

3. Alternate between 5 blows and 5 abdominal thrusts until the blockage is dislodged.
Please consider
making a donation
to
Sunny Skyz
and help our mission to make the world a better place.
[ad_2]

Source link