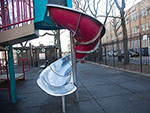 06/14/2016 AT 08:40 AM EDT
Five teenagers were shot and wounded at Harry Maze Playground in Brooklyn, New York, on Monday evening, according to multiple reports.
Police are searching for the gunman, the Associated Press reports.
Five male victims from the ages of 15 to 18 were hospitalized with non-life-threatening injuries after an unknown man allegedly started firing shots on East 56th Street in East Flatbush before 5 p.m., police confirm.
• Want to keep up with the latest crime coverage? Click here to get breaking crime news, ongoing trial coverage and details of intriguing unsolved cases in the True Crime Newsletter.
Two teens suffered gunshot wounds in the hand, one was struck in the leg and another in the cheek.
A fifth teen was wounded on the side of his stomach.
An arrest has yet to be made.